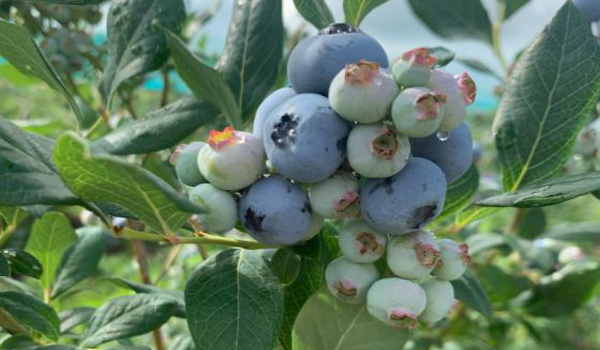 We welcome guests of all ages to join us at our blueberry fields! Come experience fresh, local, delicious blueberries and the joy that comes with picking them!
U-Pick Field Hours:
Monday – Closed
Tuesday – Saturday: 10:00 A.M. – 4:00 P.M. 
Sunday: 10:00 A.M. – 2:00 P.M.
Make plans to visit us to enjoy three varieties of blueberries on eight acres of well maintained, irrigated blueberry fields. Our berries lay under "netting" to allow for easy picking and protects the berries from bird damage.
We do not have any late bearing varieties, so our harvest season may be comparatively shorter than other growers. We pick blueberries here from about mid July to mid August. We therefore encourage you to come out early in the Blueberry season. Our first 3 weeks are our best! We pick blueberries by the pound, so bring your own bucket, bowls, or whatever you are comfortable picking in! 
Greg's U-Pick Farm is a working farm.  Tractor ruts, irrigation equipment, uneven ground, insects, and other hazards may be present during your visit.  Please make plans to stay safe and hydrated during your time on the farm.  Pay close attention to your surroundings and consider your personal safety when visiting. 
Call the Farm of Check the Facebook page to check for picking updates.
Bring your own containers or make plans to purchase one on the farm.
Arrive at the farm and park in designated "Picker Parking" area.
Check in at the U-Pick Wagon or designated U-Pick Check In Area.
Purchase your "Pickin Pass".
Pick and Enjoy the Blueberry Fields
Purchase your berries and make plans to use and enjoy! All purchases are cash or check and will be made at the designated check out area.
Our 2023 Blueberry U-Pick Pricing
Purchase your "Pickin Pass" ($4.00) 
Pickers under 2 or over 60 are complimentary. 
U-Pick Blueberries : $5.00 / Pound 
CSA Members Receive Member Discount on Picking Purchases
All u-pick purchases are made at Farm Store or Produce Barn! Cash or check payments accepted, ATM located at the front of the farm.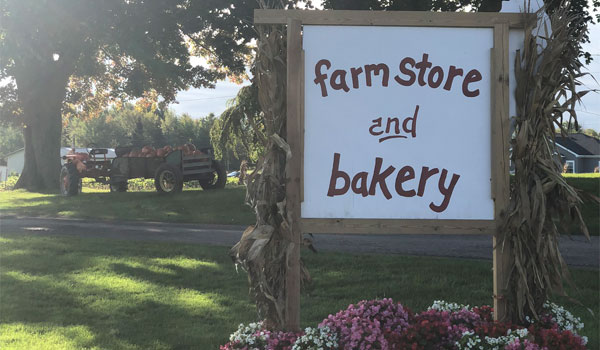 Not Interested In Picking?
Cash or Check Payments Accepted, ATM on Site, No Pets Please!
How to Freeze Blueberries
Use fresh blueberries that are completely dry when you pop them in the freezer. Don't worry about rinsing the berries before you freeze them; simply place them, still in their original containers, in re-sealable plastic bags and store them on your freezer shelf.
If you prefer to rinse the blueberries first, dry them well with paper towels, then transfer them to freezer containers or re-sealable plastic bags for freezing. The blueberries will freeze individually so you can remove just the portion you need.
If you didn't wash your blueberries before freezing them, rinse them just before use.
For best results, toss your home-frozen blueberries into oatmeal, yogurt, smoothies, shakes or sauces within 10 months.
Health Benefits of Blueberries
Antioxidants
Researchers at the USDA Human Nutrition Center (HNRCA) have found that blueberries rank #1 in antioxidant activity when compared to 40 other fresh fruits and vegetables. Antioxidants help neutralize harmful by-products of metabolism called "free radicals" that can lead to cancer and other age related diseases.
Anthocyanin
The pigment that makes the blueberries blue — is thought to be responsible for this major health benefit.
Anti-Aging
In another USDA Human Nutrition Center (HNRCA) lab, neuroscientists discovered that feeding blueberries to laboratory rats slowed age-related loss in their mental capacity, a finding that has important implications for humans. Again, the high antioxidant activity of blueberries probably played a role.
Disease Prevention
Blueberries may reduce the buildup of so called "bad" cholesterol that contributes to cardiovascular disease and stroke, according to scientists at the University of California at Davis. Antioxidants are believed to be the active component.
Prevention of Urinary Tract Infections
Researchers at Rutgers University in New Jersey have identified a compound in blueberries that promotes urinary tract health and reduces the risk of infection. It appears to work by preventing bacteria from adhering to the cells that line the walls of the urinary tract.
Blueberries and Eyesight
A number of studies in Europe have documented the relationship between bilberries, the European cousin of blueberries and improved eyesight. This is thought to occur because of the anthocyanin in the blue pigment which is also available in the blueberry. One study in Japan documented that blueberries helped ease eye fatigue.
Berry Blue Smoothie Recipe
2 Cups Fresh or Slightly Thawed Blueberries
1 Six Ounce Container Low Fat Vanilla or Other Yogurt
1 Cup Fruit Juice Such as Orange or Pineapple
1 Tablespoon Honey, Sugar, or Maple to Taste
In the container of an electric blender place blueberries, yogurt, and honey.
Serve Immediately and enjoy!
Cash or Check Payments Accepted, ATM on Site, No Pets Please!